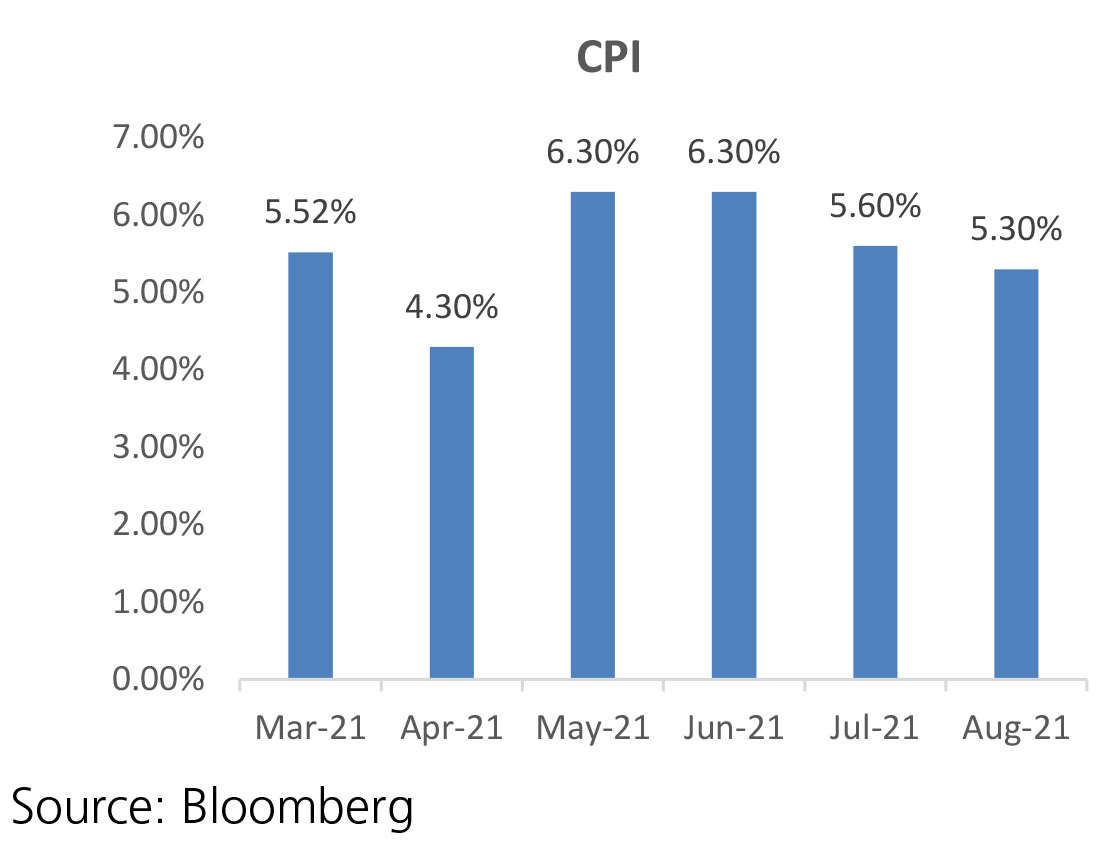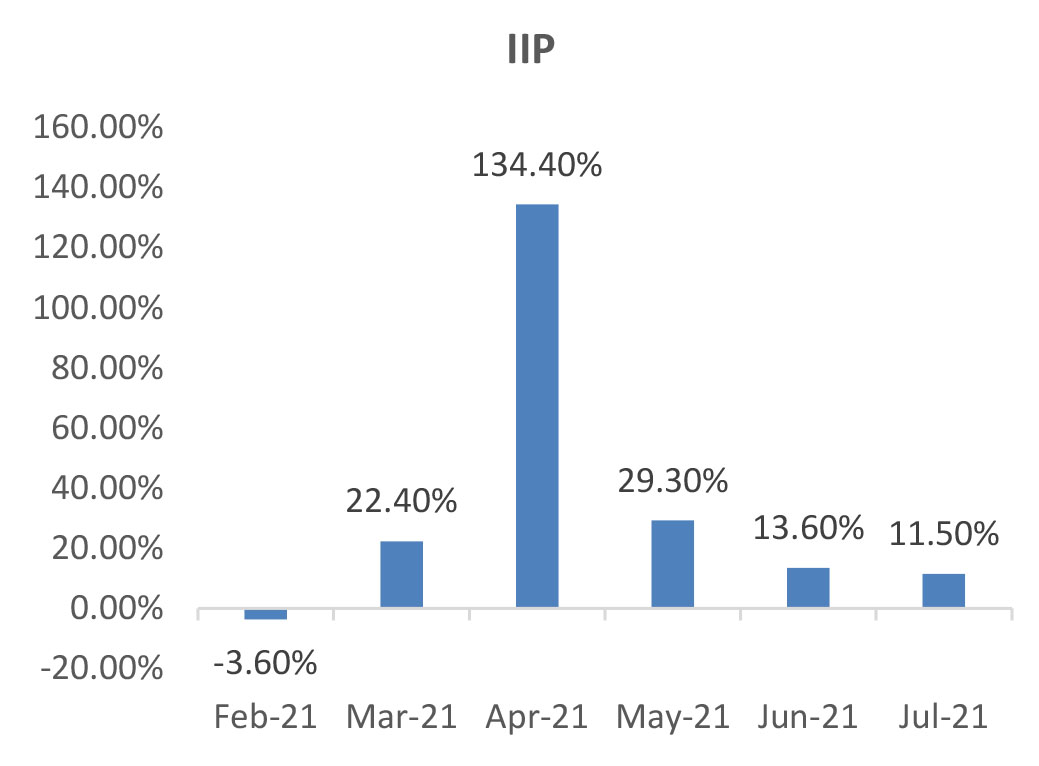 IIP: July IIP registered an uptick of 11.5% (June: 13.6%) led largely by a pick-up in sequential momentum (7.2% mom). On a sectoral basis, mining activity picked up by 19.5% yoy (June: 23.1%), electricity production by 11.1% (8.3%), and manufacturing activity by 10.5% (13%). Compared to July 2019, IIP was 0.3% lower, with manufacturing activity lower by 2.1%. However, electricity production and mining activity were higher by 8.3% and 4.4% respectively. As per the use-based classification, capital goods production grew by 29.5% (June: 26.6%), consumer durables by 20.2% (27.9%), and intermediate goods by 14.1% (22.7). Meanwhile, consumer non-durables production continued to remain weak for the second time in a row ((-) 1.8% compared to (-)4.5% in June) signaling persistence of fragmented pickup in demand.
CPI: August CPI inflation moderated to 5.3% (June: 5.59%) led largely by lower-than-expected food inflation even though core inflation remained elevated. Sequentially, the headline CPI increased 0.2% (compared to 0.7% mom in July). Food and beverages inflation eased to 3.8% compared to 4.5% in July with the food index declining sequentially by 0.1% (+1% mom in July) led by fall in prices of meat and fish, eggs, fruits, and pulses. Core inflation (CPI excluding food, fuel and pan, tobacco) remained flat from July at 5.9% but rose sequentially by 0.5% mom (0.7% mom increase in July). Prices increased across all categories except personal care which declined by 0.1% mom.
Trade Deficit: Trade deficit in September increased sharply to USD 22.9bn (August: USD 13.8 bn) and USD 78.4bn in 1HFY22 (USD 25.9bn in 1HFY21 and USD 88.9bn in 1HFY20). Exports in September increased 21.3% to USD 33.4bn, growing sequentially by 0.5% (July: USD 33.3 bn). Non-oil exports at USD 28.5bn increased 18.7% but declined by 0.2% sequentially. Imports in August rose sharply by 84.7% to USD 56.3bn while increasing sequentially by 19.7% (July: USD 46.4bn). Non-oil imports grew 57.8% to USD 38.9bn (9.9% sequentially). The sharp rise in imports was due to oil imports at USD 17.4bn (50% sequentially) and electronics imports at USD 6.9bn (16.4% sequentially).
Fiscal Deficit: The fiscal deficit stood at 31.1% of the Budget Estimates, as compared to 109.3% in the same period last year. In absolute terms, the fiscal deficit was at Rs 4,68,009 crore at the end of August. The main contributors to the lower fiscal deficit were higher net tax revenues at 41.7% of BE vs 17.4% in the corresponding period previous year and non-tax revenues at 61.2% vs 22.4% in the same period last year. At the same time, total expenditure was lower at 36.7% for the period vs 41% in the same period last year.