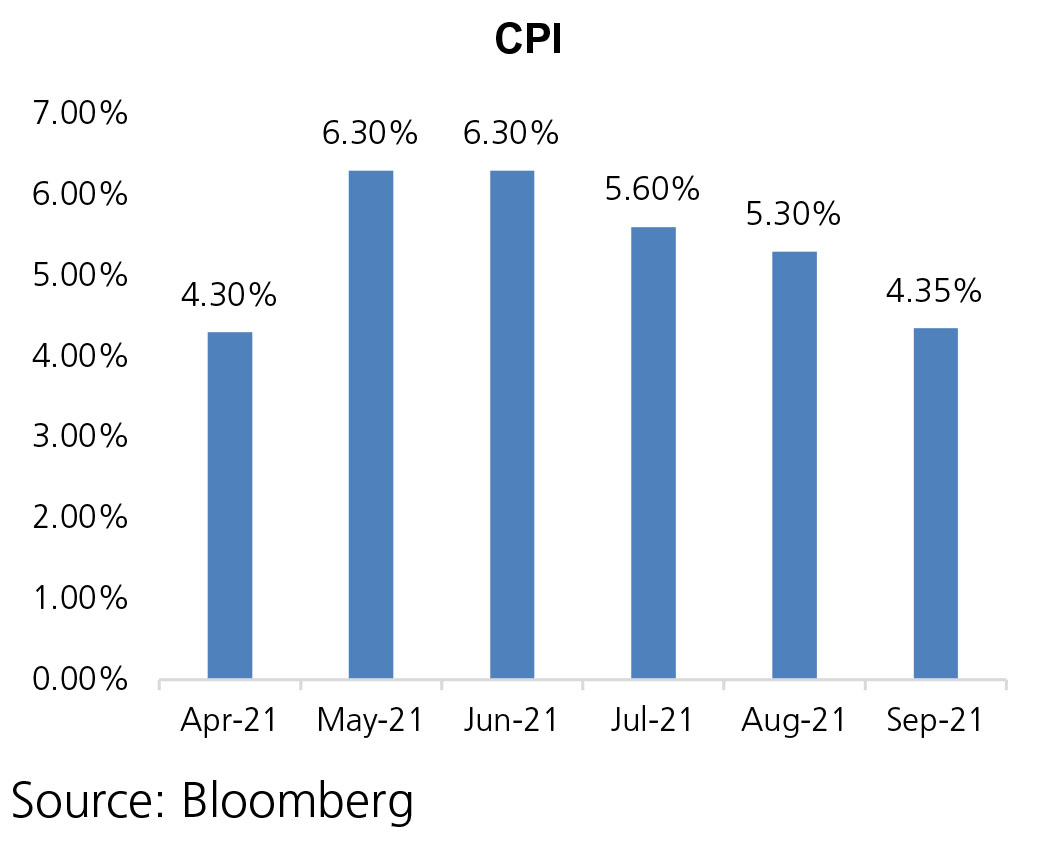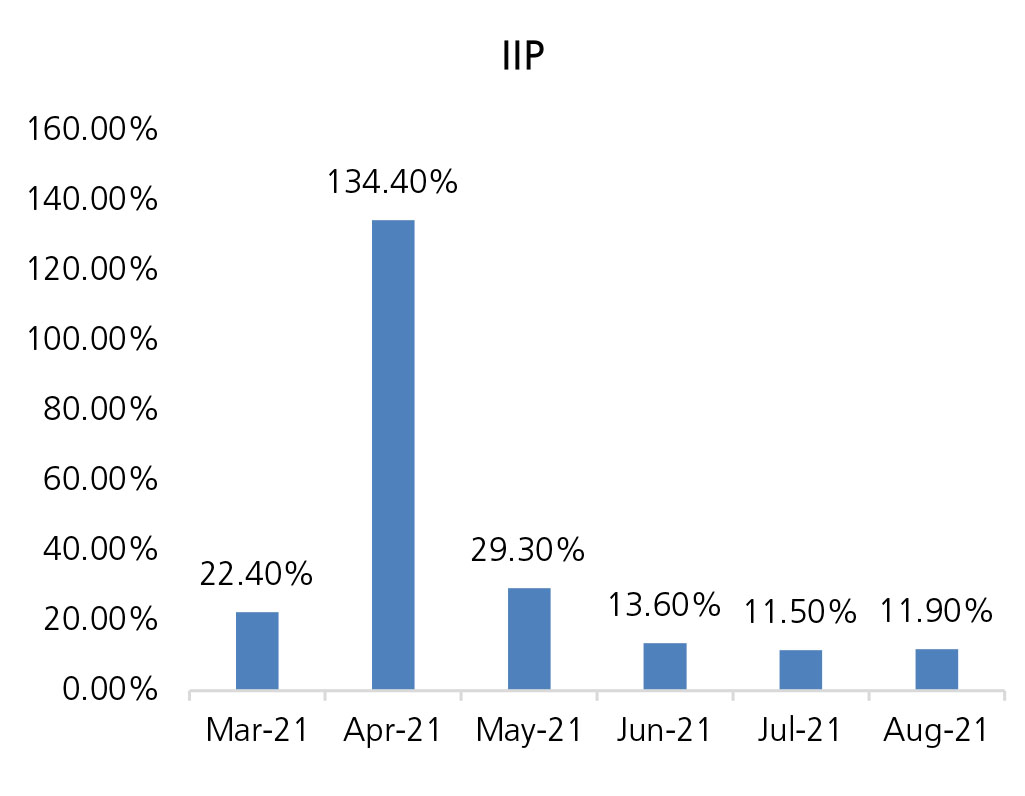 IIP: IIP was up 11.9% YoY in August as against 11.5% YoY in July. The marginal uptick was on account of strong growth in all major components, led by a low base: manufacturing activity (IIP weightage: 78%) grew 9.7% YoY, mining activity (IIP weightage: 14.4%) grew 23.6% YoY, and power generation grew 16% YoY in August. All three were led by very low bases of -7.6%, -8.7%, and -1.8% YoY, respectively, in August 2020. According to the use-based classification, only primary and consumer goods grew 17% and 6.3% YoY respectively in August from 12.4% and 5.6% YoY respectively in July. On the other hand, production of capital goods and intermediate goods, and infrastructure/construction activity grew slower in August as compared to July.
CPI: CPI-based retail inflation came in at a five-month low of 4.35% YoY in September as against 5.3% YoY in August. With this, CPI inflation in Q2FY22 stood at 5.1% YoY v/s 5.6% YoY in Q1FY22. Food inflation (CPI weightage: 39.1%) came in at a 30-month low of 0.7% YoY in September as compared to 3.1% YoY in August. Vegetables, one of the most seasonal food items, exhibited a deep deflation of 22.5%. CPI, excluding vegetables, came in higher at 6.7% YoY in September as compared to 6.6% YoY in August. Inflation in core items stood at 5.8% YoY in September from 5.9% YoY in August. Within miscellaneous items, all items except 'recreation and amusements' and 'personal care and effects' exhibited lower inflation in September as compared to August.
Trade Deficit: Trade deficit in September increased sharply to USD 22.9bn (August: USD 13.8 bn) and USD 78.4bn in H1FY22 (USD 25.9bn in H1FY21 and USD 88.9bn in H1FY20). Exports in September increased 21.3% to USD 33.4bn, growing sequentially by 0.5% (July: USD 33.3 bn). Non-oil exports at USD 28.5bn increased 18.7% but declined by 0.2% sequentially. Imports in August rose sharply by 84.7% to USD 56.3bn while increasing sequentially by 19.7% (July: USD 46.4bn). Non-oil imports grew 57.8% to USD 38.9bn (9.9% sequentially). The sharp rise in imports was due to oil imports at USD 17.4bn (50% sequentially) and electronics imports at USD 6.9bn (16.4% sequentially).
Fiscal Deficit: The fiscal deficit stood at 35% of the Budget Estimates, as compared to 114.8% in the same period last year. In absolute terms, the fiscal deficit was at Rs 5,26,851 crore at the end of September. The main contributors to the lower fiscal deficit were higher net tax revenues at 60% of BE vs 28% in the corresponding period previous year and non-tax revenues at 66% vs 24% in the same period last year. At the same time, total expenditure was marginally lower at 46.7% for the period vs 47.8% in the same period last year.