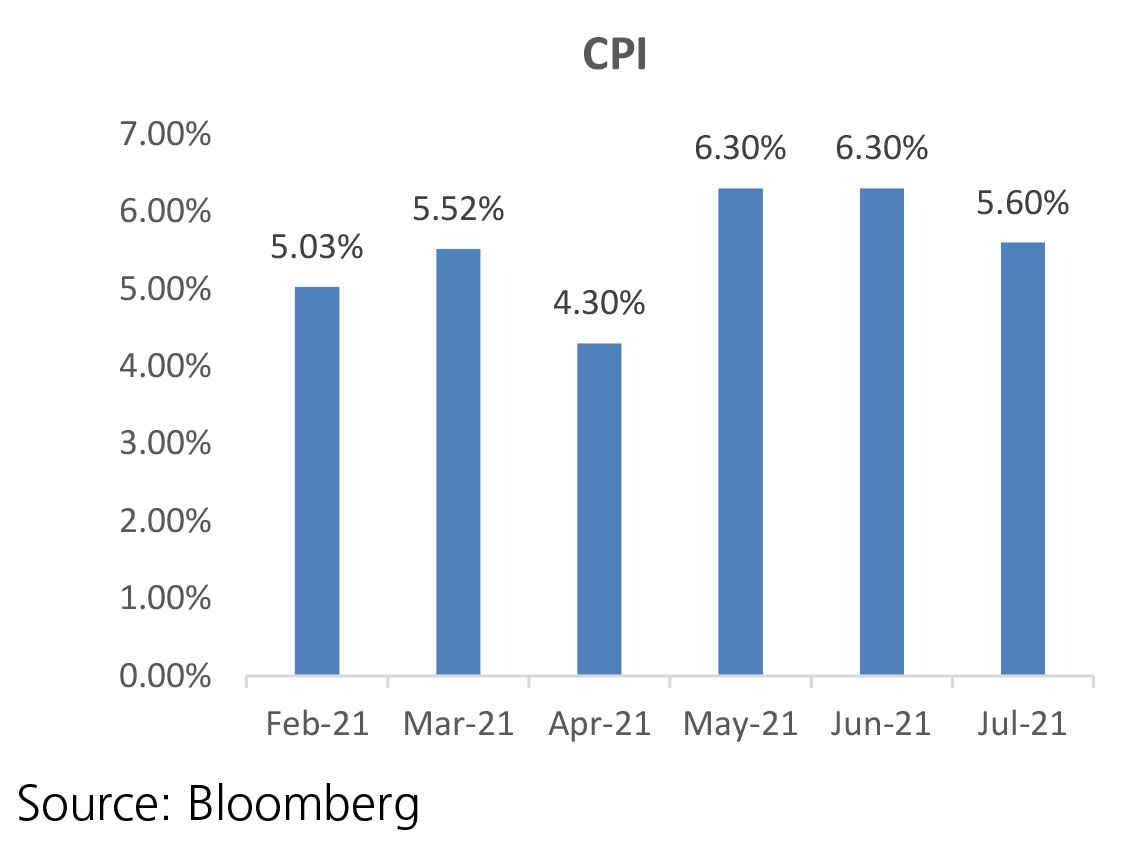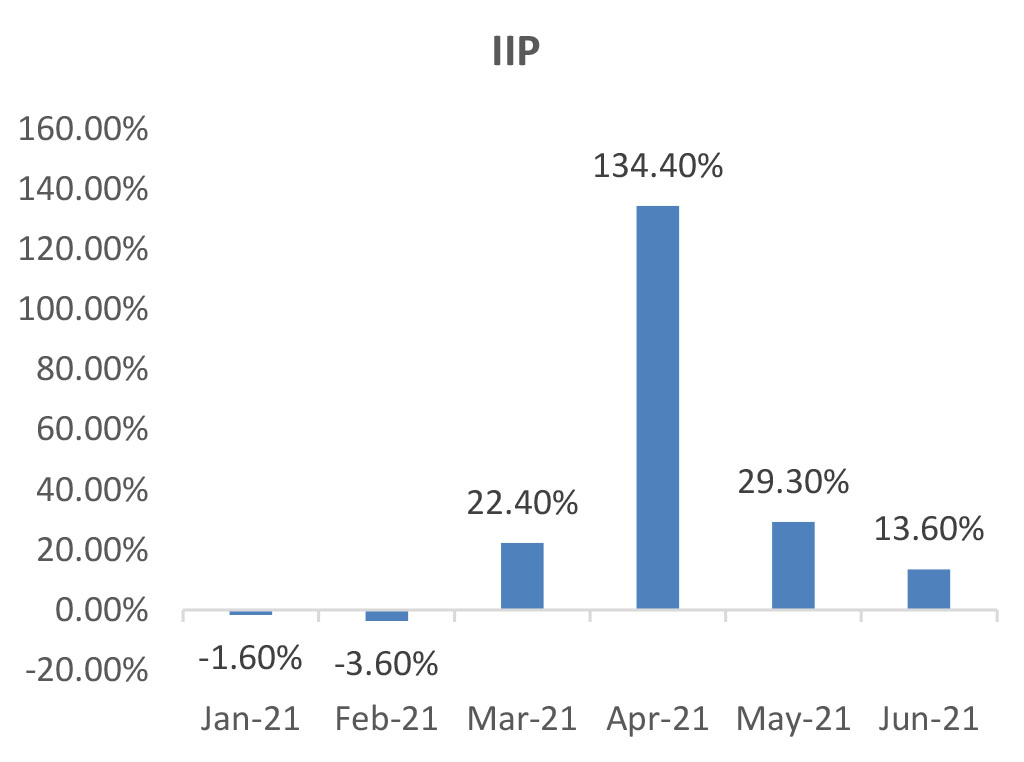 IIP: The country's index of industrial production (IIP) surged by 13.6% y-o-y to 122.6 in the month of June 2021 primarily due to gaining momentum and a low base in June 2020. Manufacturing which contributes to 77.6% of the basket grew by 13%, while Mining and Electricity grew by 23.1% and 8.3% respectively.
CPI: CPI inflation for July came in at 5.7%, down from 6.3% in June amidst favourable base effects despite increasing momentum. Food and beverages inflation moderated to 4.5% from 5.6% in June, coming from a softening of inflation in oils and fats, fruits, and pulses. Fuel inflation remained in double digits in July at 12.4%, though it was a tad lower by around 20 bps from 12.6% in June 2021. Core CPI inflation moderated to 5.8% in July 2021 from 6.1% in June.
Trade Deficit: The trade deficit for July aggregated to $10.97 Bn vs a deficit of $9.3 Bn in June 2021. The trade deficit in July 2020 was $4.8 Bn. The country's exports came in at $35.4 Bn vs $32.5 Bn in June 2020. Imports for the month increased by 63% over July 2020 to US$46.4 Bn due to lower base and gaining momentum. Oil imports for the month rose to $12.9 Bn, as compared to $10.6 Bn in July 2020.
Fiscal Deficit: The fiscal deficit stood at 21.3% of the Budget Estimates, as compared to 103.1% in the same period last year. In absolute terms, the fiscal deficit was at Rs. 3,21,143 crore at the end of July. The main contributors to the lower fiscal deficit were higher net tax revenues at 34.2% of BE vs 12.4% in the corresponding period previous year and non-tax revenues at 57.6% vs 6.4% in the same period last year. At the same time, total expenditure was lower at 28.8% for the period vs 34.7% in the same period last year.
GDP: Q1 FY22 GDP expanded by 20.1% YoY (GVA growth of 18.8%). GDP growth was in line with estimates and primarily driven by low base of the Covid impacted quarter of the previous year. On a QoQ basis, GDP has declined 16.9% and by 9.2% when compared with June-2019 quarter. In comparison to the pre-Covid base, only government expenditure and exports are faring better, growing at 7.4% and 8.7% respectively, while the rest of the components such as private consumption, investments and imports are still in negative.