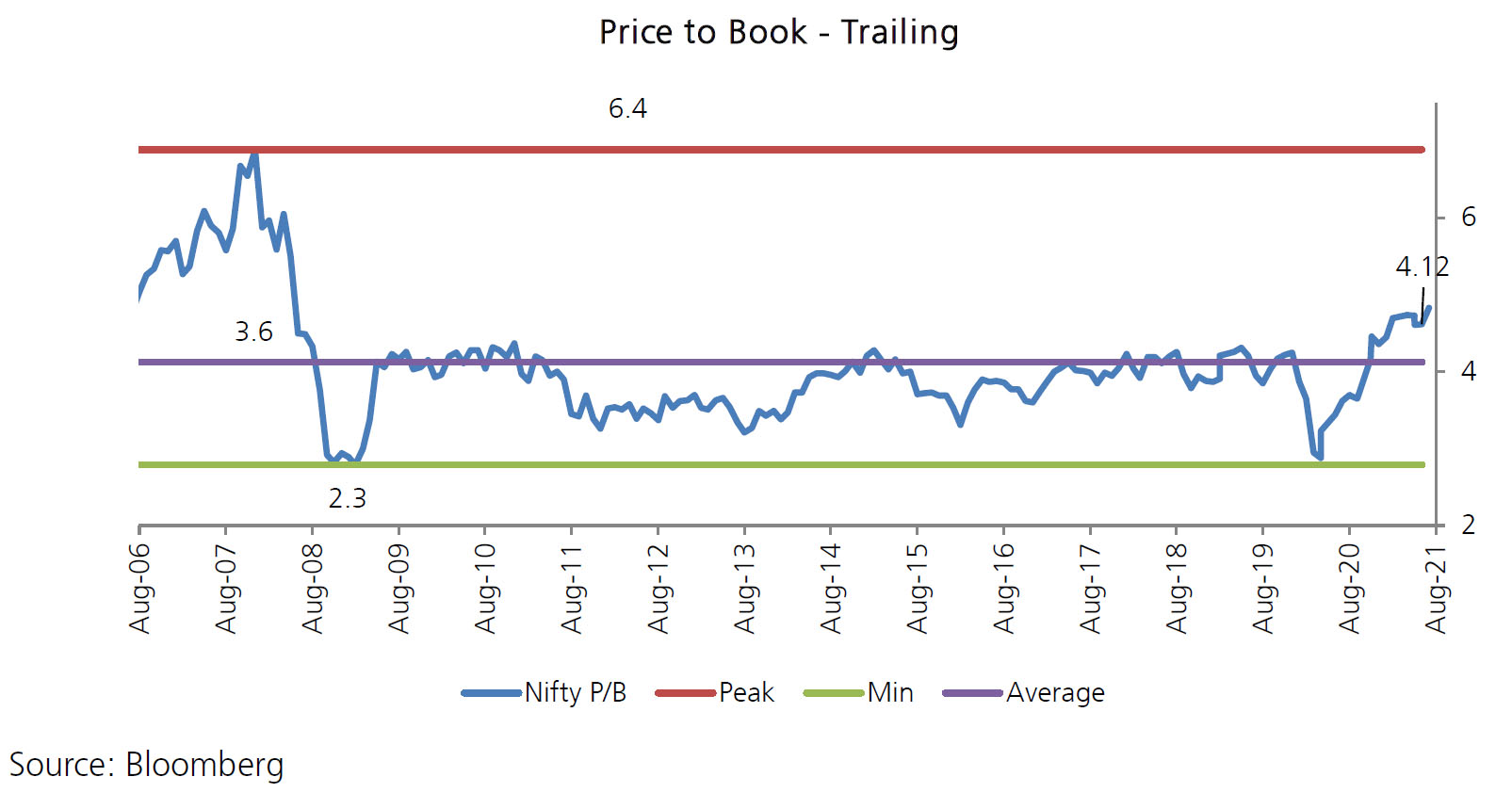 ●
Quarterly Earnings:
June quarterly earnings were broadly in-line.The Q1FY22 earnings season has been in-line, benefitting from the lower base of Q1FY21, as lockdowns in Q1FY22 were localized and less stringent v/s Q1FY21. Nifty profits for the 31 companies that have posted their results have grown 70% y-o-y (v/s exp. 64% growth). Among the sectors, Cement, Metals, Healthcare, and O&G have outperformed; Autos, NBFC, and Capital Goods have underperformed; and the performances of IT, Consumer, and Private Banks have been in line with expectations.
Stock returns are driven more by earnings surprises than by growth. Anticipating business performance vs. expectations is an important part of investing. This has become particularly difficult now as a) the pandemic creates economic volatility, and b) the extent of 'pent up' demand is difficult to ascertain. The reopening / rebound narrative can be used to justify a wide range of forecasts; YoY growth numbers are no longer a benchmark / anchor.
●
Covid:
India's positivity rate peaked at about 23% in early May but has now declined to below 2.5%. The 7DMA of vaccine shots administered has increased sharply from under 2.0mn a day in the middle of May to over 5.0mn now.
●
Unlock:
With fall in Covid cases, states eased restrictions by allowing restaurants to open with 50% capacity, longer working hours etc. However, Delta Plus variant poses a risk to phase-wise unlocking in some states.
●
Vaccination:
As of 31 July, approximately 463 Mn doses have been administered in India (with approximately 27% of population having taken at least one dose). India surpassed US in total vaccinations with 460 Mn+ by July-end. Vaccinations ramped-up post Centre took control but only 8% of India's adult population was fully inoculated.
●
Monsoon:
By July-end, 39% of India's districts received normal rainfall while 34% received excess / large excess. Remaining 27% received deficient / large deficient, most of them in Rajasthan, Gujarat, UP & Odisha.