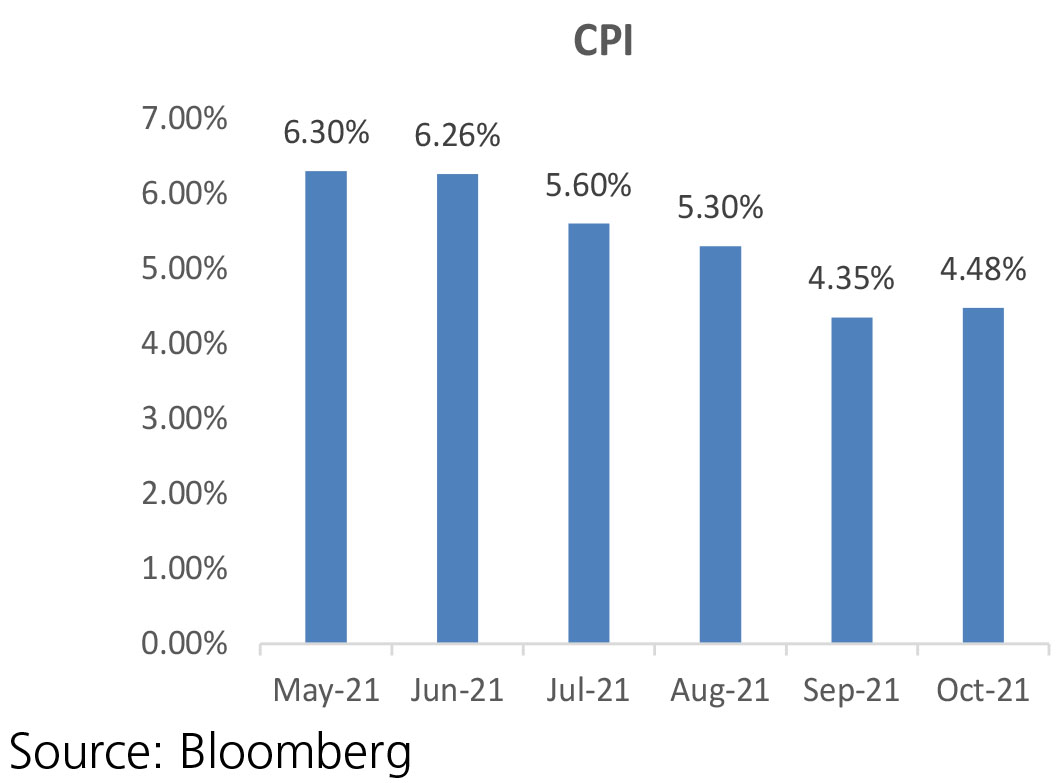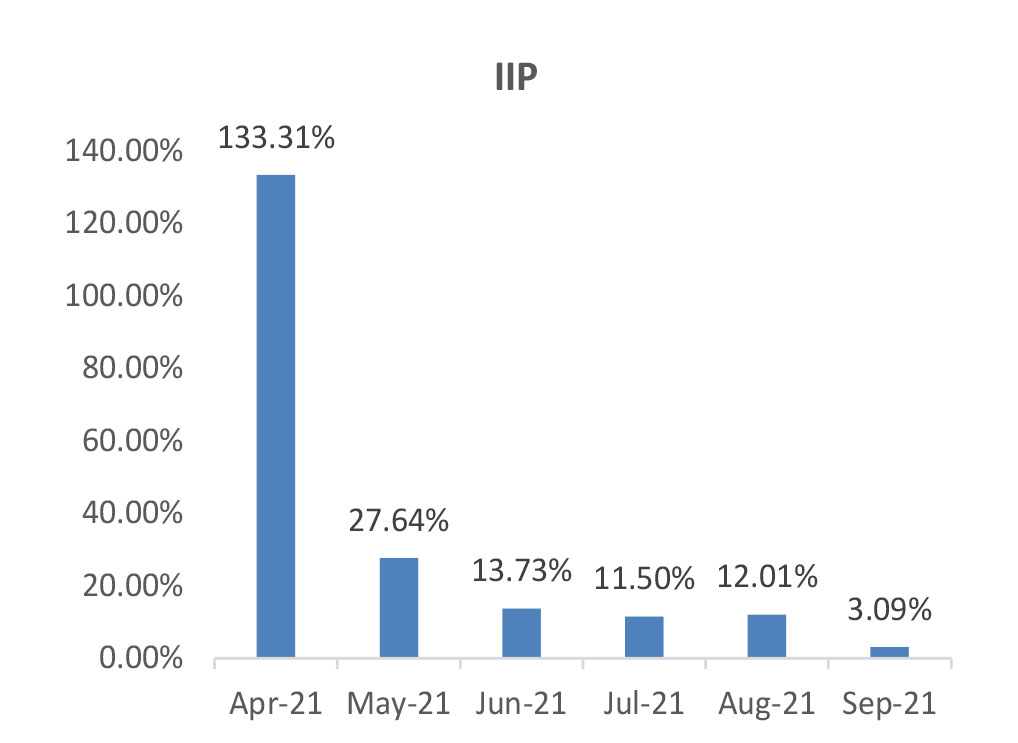 IIP: September IIP grew by 3.1% (August: 12%) on diminishing base effects while declining sequentially by 2.6%. Compared to September 2019, IIP was higher by 4%. On a sectoral basis, mining activity grew by 8.6% (August: 23.6%), manufacturing by 2.7% (August: 9.9%), and electricity production by 0.9% (August: 16%). As per the use-based classification, infrastructure/construction goods grew by 7.4% followed by intermediate goods by 4.9%, primary goods by 4.6%, and capital goods by 1.3%. On the other hand, consumer nondurables and durables declined by 0.5% and 2%, respectively.
CPI: Headline CPI inflation for the month of October 2021 edged up to 4.5% from 4.3% in September. In spite of favourable base effects, a steep rise in price momentum (month-on-month change in prices) more than offset the favourable base effects, resulting in headline inflation increasing in October. Food and beverages inflation increased to 1.8% (September: 1.6%) primarily led by a pick-up in prices of eggs, oils and fats, fruits and vegetables. Core inflation (CPI excluding food, fuel, pan and tobacco) at 6% remained sticky and elevated from September while increasing sequentially by 0.7% (0.2% mom in September). Prices increased across all categories led by transport, housing and recreation.
Trade Deficit: November trade deficit at USD 23.3bn surpassed the previous high of USD 22.6 bn in September. The deficit widened mainly due to a sharper fall in exports than imports, possibly reflecting rising Covid cases in some of the key markets. Exports in November fell by 16.2% mom (27% growth yoy) to USD 29.9bn. Nonoil exports also fell by 14.4% mom (18.3% growth yoy) at USD 26.1bn. In 8MFY22, exports at USD 263.7bn increased by 52% over 8MFY21. Imports in November increased by 57% to USD 53.2bn. Non-oil imports remained high at USD 38.5bn (October: USD 40.9bn) reflecting strong domestic demand even as the festive season impact has faded away. In 8MFY22, imports at USD 382.9bn increased by 76% over 8MFY21. Trade deficit for 8MFY22 is at USD 119.1bn (USD 43.6bn in 8MFY21).
Fiscal Deficit: The fiscal deficit stood at 36.3% of the Budget Estimates, as compared to 119.7% in the same period last year. In absolute terms, the fiscal deficit was at Rs 5,47,026 crore at the end of October. The main contributors to the lower fiscal deficit were higher net tax revenues at 68.1% of BE vs 35.2% in the corresponding period previous year and non-tax revenues at 85.1% vs 30.2% in the same period last year. At the same time, total expenditure was marginally lower at 52.4% for the period vs 54.6% in the same period last year.
GDP: Q2 FY22 GDP expanded by 8.4% YoY as against 20.1% in Q1 FY22 (GVA growth of 8.5%). As favorable base effects faded, the year on year growth rates declined, but sequentially both GDP and GVA saw a sharp increase. Growth in private consumption expenditure, gross fixed capital formation, exports and imports moderated, but government expenditure grew at a faster pace. While overall GDP was back to Sep 2019 levels in absolute levels, private and government expenditure remained below pre-pandemic levels. On the sector front, while agriculture growth remained unchanged at 4.5%, industry growth slowed down on account of base effects. On the services side, public administration & defense services and financial, real estate & professional services grew by 17.4% and 7.8%, respectively.