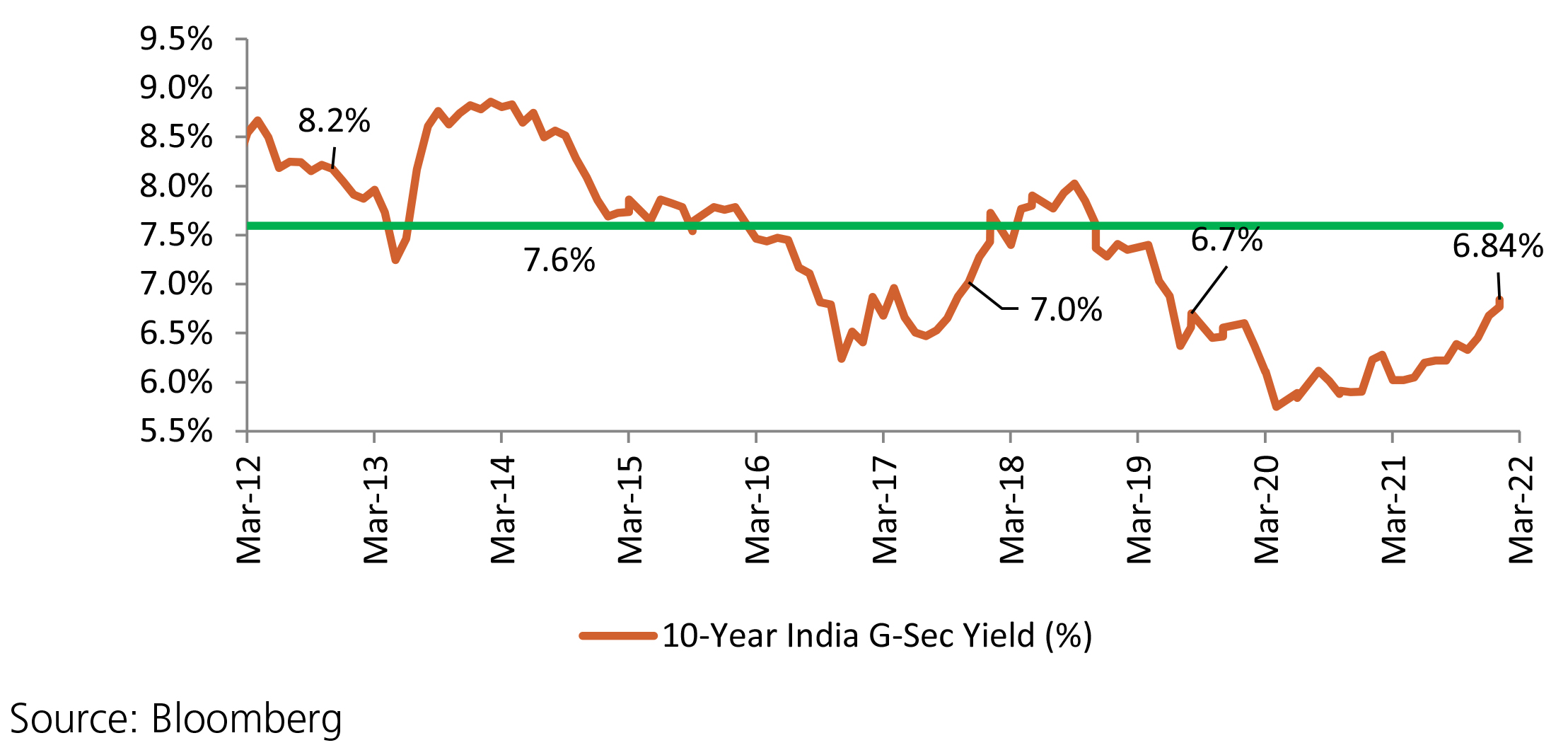 Yields were under pressure through the month with crude prices continuing to remain elevated above the USD 100/bbl mark. Despite the month of March having no supply (G-Sec auctions ended in February), yields failed to gather any positive momentum as market participants tried to finetune their positioning ahead of the announcement of the G-Sec auction calendar. The consensus expectation was that the first-half of FY23 would see about 55-60% of the annual borrowing. The anticipation of such a large borrowing number kept any prospects of positive momentum in check.
Yields climbed steadily at the start of the month touching 6.90% before retracing back to 6.78% mid-month and finally ending at 6.84%.The 10y benchmark averaged 6.82% over the month of March. The borrowing calendar was released on the last day of the month and the number for the first-half came in at the upper-end of expectations at 59% (INR 8.45tn) of the overall gross borrowing number. This works out to a weekly G-Sec supply figure of about INR 320-330bn.
Looking forward, the RBI MPC meeting in the first week of April will provide further direction on the trajectory of yields. Inflation readings are hitting the upper-band of the RBI's inflation corridor and despite crude prices firmly entrenched over USD 100/bbl, it is expected that the RBI will stay put on policy rates. The forward guidance will however be critical in deciphering the possible action of the RBI in upcoming meetings. Even if the MPC decides to refrain from acting at the policy, we expect the combined forces of elevated crude prices, higher inflation and massive supply to push yields higher.